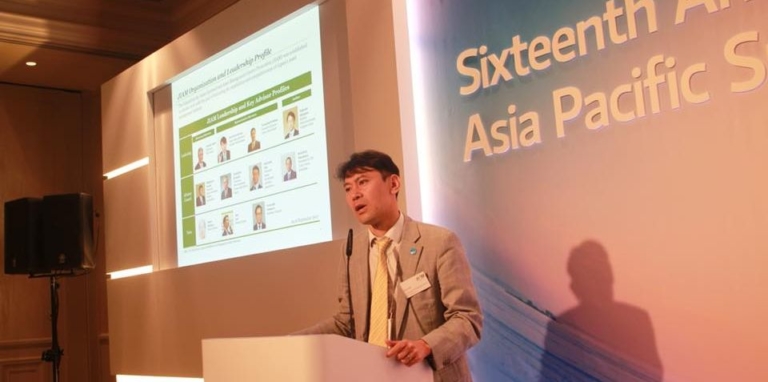 (in the picture – Keiichi Aritomo spoke about Tokyo EMP)
In a joint effort with Tokyo Metropolitan Government (TMG), JIAM team conducted roadshow in SG back in Nov 2017. We talked about TMG's "Global Financial City Tokyo" program, then specifically in detail we held sessions about Emerging Manager Program (EMP) and JIAM FinTech Square (JFS). 
Both sessions had over 100 attendees, many good questions were asked. 
Emerging Manager Program
About difficulty of getting license in Japan – Japan FSA has already made great effort to speed up the whole process.
About EMP selection criteria and process – We have been working with few prestigious gatekeepers such as PE and FOHF firms to define this.
About how to setup an Asset Management business in Japan – JIAM team can provide extensive assistance by collaborating with our partners. 
Strong interest of matching Japan asset owners with SG asset managers – JIAM team is happy to help. 
JIAM FinTech Square
About slowness of FinTech adoption in Japan – We have seen biggest banks and asset managers in Japan are aggressively exploring new tech solutions.
About joining JFS showroom – It's free of charge and JFS team is happy to help outstanding B2B FinTech firms to expand market in Japan.
About areas to apply FinTech for Japan asset managers – It can be ranged from front to back, from small product to industry wide solutions. We are keen to see solutions and services around any of below areas.

AI/Big Data driven investment decision support
Reporting and Client Servicing
Sales and Fund Distributions
Compliance and Regulation
Please also see a report published by Digital Finance who attended the session.
If you have more questions or interests around these topics, please contact us anytime!