JIAM Fintech Square (JFS) Showroom is a permanent facility for demonstrating advanced fintech solutions to asset owners and asset management companies in Japan. The goal of showroom is help asset management industry of Japan to achieve higher investment performance and lower servicing and operational cost through upgrading their technology capabilities. 
Frequently Asked Questions and Answers
How does the showroom look like? 
Below are pictures taken during final stage of construction. The showroom is located next to Tokyo Stock Exchange.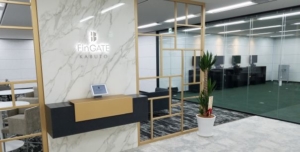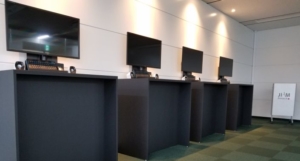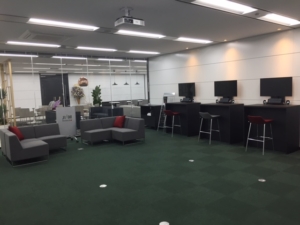 JFS showroom was officially opened on May 23rd, Tokyo Metropolitan Government, industry associations, asset managers, fintech firms, our sponsors and media were present.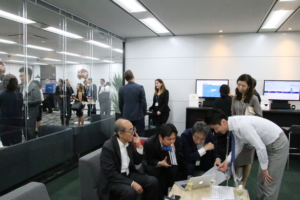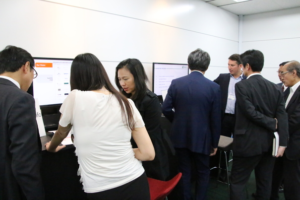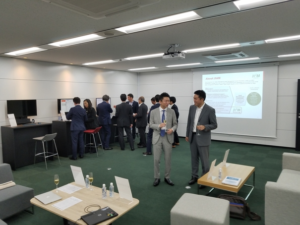 What is fintech selection criteria?
We select asset management oriented fintech solutions that can help to enhance investment return, create innovative products, improve efficiency and reduce risks for asset managers. The minimum criteria is having a proven working product with at least 1 client on board. English interface isn't a problem. 
Who are the audience that our fintech solution will be demonstrated to?
JFS invites major asset owners and asset managers in Japan to join the showroom and promote fintechs to them. 
How do we (fintech) get connected to client? 
If clients show interest of knowing more detail after the introduction by JFS, we will connect them directly to fintech firms.
How the demonstration will be conducted?
We will have curators in the showroom to explain fintech products during client visit. For each fintech it will be a short pitch within 5 minutes followed by a deeper dive and demo if client is interested. We will also map fintech solutions to client's business value chain and gather feedback. 
Does fintech firm need local presence or remote conference for the demonstration?
Not required. 
What kind of preparation work needed from fintech side?
We try to minimize burden on fintech firm in the process of joining the showroom. Basic things required are marketing materials, entry level training for our curators. 
Are there other promotion events?
JIAM conducts several events every year, including two seasonal sponsor meetings and other educational and promotional events conducted in Japan and overseas. We welcome fintech firms to join these events too. 
Is there any fee for joining JFS Showroom? 
Currently there's no fee for fintech startups. This is also corresponding to Tokyo Metropolitan Government's effort of encouraging oversea fintechs to expand to Tokyo. 
For any questions, please email to "fintech@jiam.tokyo".